Things You Can Do With Potato Stamps
Aug 04

Potato stamps are so easy to create. This is a fun craft even for the little ones. They don't require a lot of materials nor expense, yet your kids will happily spend hours creating piles of pictures using these homemade craft supplies. Any type of potato will work, just make sure it's not too big for little hands to easily manage. Adult supervision is required to create the actual stamps. Your preschoolers will have fun not only stamping but creating beautiful pieces of art they are proud of. Let's cover some basics first and then we will show you what you can do.
HOW  TO CREATE A POTATO STAMP
1. Slice a potato (we used large russets) in half lengthwise. Place a cookie cutter on the cut side of one half; set aside other potato half to use for another stamp.
2. Push cutter through potato, keeping potato steady on table; break away excess potato. Poke shape out of cutter; blot away any moisture with a paper towel.
3. Using a craft stick, spread a thin layer of fabric paint on a paper plate. Dip potato shape, white side down, into paint a few times, moving it around for an even coat; wipe off any paint on sides of stamp with a paper towel.
4. Slip a piece of cardboard inside a cotton shirt, then stamp the shape onto shirt, pressing down firmly for five seconds. Let paint dry completely before adding any other stamps.
Spud Stamp Basics
Flowers
Each part of a decoration can be made with a separate potato stamp. For this design, we cut a blossom with a flower cookie cutter, leaves with an aspic cutter (normally used for shaping jellied garnishes), and a stem with a knife.
Stars
A large, simple shape like this star is easiest for younger kids.
Letters
Use letter cookie cutters to spell out names. Place cutter on potato half so letter is backward; cut out. Turn stamp over, and dip into paint. The same method works for numbers.
Polka Dots
A fingerling potato makes great dots — just cut off the tip.
ALTERNATE WAY OF CREATING POTATO STAMPS
This method is perfect for creating letters and custom designs
You will need:
potatoes
knife
paint
paper
paper plate
How to make them (adults only):
Using the knife, cut the potato in half.
Carefully cut away portions of the potato leaving a shape area that will be the stamping space.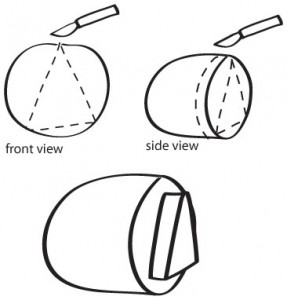 Use your new potato stamps to create great crafts!
Pour paint on to paper plate for easy stamping.
Kids:Dip the potato stamp in the paint, shape side down and then stamp on to paper.
Activity extras:
Explore shapes and colors with these stamps. What happens if you overlap paint colors or shapes? Can you make a pattern? Explore other shapes around the kitchen to create more fun stamp shapes.
VIDEO TUTORIAL
Make it Mine Magazine shows us how to make a potato stamp using a cookie cutter (for those of us less confident with our freehand abilities).
HERE ARE SOME IDEAS
1. Potato Stamp Shirt: Baking potatoes turn into custom stamps for fabric paint; to obtain the best results, use shirts made of washable cotton. You and your kids can create this adorable and customizable shirt by using potato stamps and paint.
2. Potato Stamp Cards
Make these sweet greeting cards with a potato stamp made with a flower cookie cutter. Use store-bought stamps and ink to create a greeting.
3. Potato Stamp Gift Tags: Use different potato stamp designs to create holiday cards or gift tags. They're easy and they add a personalized touch.
4. Potato Stamp Stars organic Bedding: How fun is this Potato Stamp Stars bedding? Stars are such a great and versatile design, perfect for both modern or traditional decor styles, and I love how the potato stamp effect gives the star print a retro feeling. The bedding is certified organic cotton, printed to Oeko Tex standards… and is as cosy as can be. This duvet cover has the star print in cotton percale on one side and a blue, snuggly t-shirt material on the other side. It's available from Quick Brown Fox of Dulwich along with other great bedding designs.
5. Create a custom fabric: If you are very creative and are not afraid when it comes to experimenting you can actually create your own custom fabric and sew one of a kind pillow or skirt. This pillow was created by Malka Dubrawsky.